Tuesday, December 03, 2002
Oh TV, I hardly knew ye.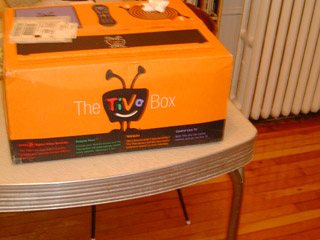 Christmas (and my birthday) came early this year. My boy (and some kind familial contributors) pooled their pennies to buy me the ultimate geek toy, a nice spanking new Tivo. And the boy let me open it as soon as it came
I've been pretty much chomping at the bit for one for ages and now it's ALL MINE!
After a few momentary snafus (one of the curiosities of living in Jersey City is that sometimes a call to a different area code is cheaper than one within our area code) it was all up and running. Within 5 minutes, I couldn't imagine using a television without it.
Pause Nigella to make some tea? Skip the commercials upon returning? Rewind to look at how weird her butt looks all squished into that girdle? Word.
It's miraculous. I may never leave the house again.
If only to make sure I can teach it not to record Designing Women: when I sat down this morning, there were FOUR episodes queued up for me to watch. Yech! I'm not that gay.
Comments
Post a comment