Friday, October 31, 2003
iChat font size.
So I'm getting no where in any Apple user forums I know of so I'm hoping maybe a blog post will garner me some Google mojo on a Panther problem.
I set incoming/outgoing fonts in iChat to be the same size and font.
But the font almost immediately becomes one point size smaller after I've set it!
Select 11 point Lucida. Switch to a different program. Switch back to iChat. Start typing. Hit Return. Hey look, it's 10 point Lucida in the window.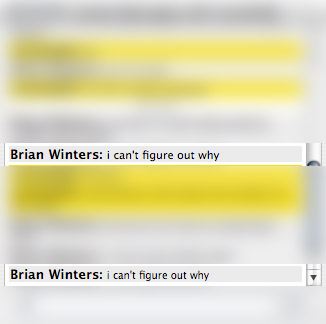 And it doesn't happen to anyone else. Damn it. I'm cursed.
Anyway, if you have this weird, annoying, niggling issue, let me know in a comment or something.
While I'm on font issues, it annoys the living spit out of me that if you select an item in your Startup Items prefs pane in Panther, its font changes from Lucida to Helvetica.
I do like Panther; I think it is a leap forward in many ways. But then I read things like this and I get cranky again. And that doesn't even mention the massive Network connection cockup. The devil is in the motherfucking details, Apple!
Thursday, October 30, 2003
Matins.
Now that it's populated with a few entries, I'd like you all to know that my boyfriend has started a weblog. Just between you and me, I'm a bit worried about the incipient Napoleon obsession.
Wednesday, October 29, 2003
So. This is what's up.
So. I'm alive. Miracle to end all miracles. I've finally finished midterms for both of my classes so I'm yet another step closer to ending my career as the World's Oldest Living Undergrad (thank you, thank you). Now I'm wrassling with a big, black Panther... and it's giving me a run for my money. I opted for a clean install, figuring it would be nice to start fresh especially as I had been mucking with OS X's built-in Apache and PHP installs. But naturally I neglected to backup some important details, like my application receipts, Stickies database and some part of Photoshop that annoyingly bugs me on startup now. So far Panther is being good to me, even if it seems Apple has introduced a new bug in the Finder for every one they've fixed from Jaguar ("untitled folder" selection bug in list view quashed! But in exchange, Satan required Steve Jobs to sacrifice all icon alpha masks!! Dommage!!). Network browsing is a bitch (and really a ridiculous step backwards from the equivalent functions in Jag; thanks to Noah for showing me the AppleTalk activation thing in Directory Access, which was bugging me even worse), the brushed metal Finder makes me weep silently and the further shattering of desktop and selection metaphors makes me want to sit in a corner, rocking back and forth and muttering under my breath. More interesting posts to come. If I survive.
Wednesday, October 15, 2003
Yeesh, I turn my back for a few minutes...
Well, apparently they've been repeating the upy*urbutt dot net episode of Law and Order. As evidenced by the new comments on this post. Sigh. Hi Googlers!